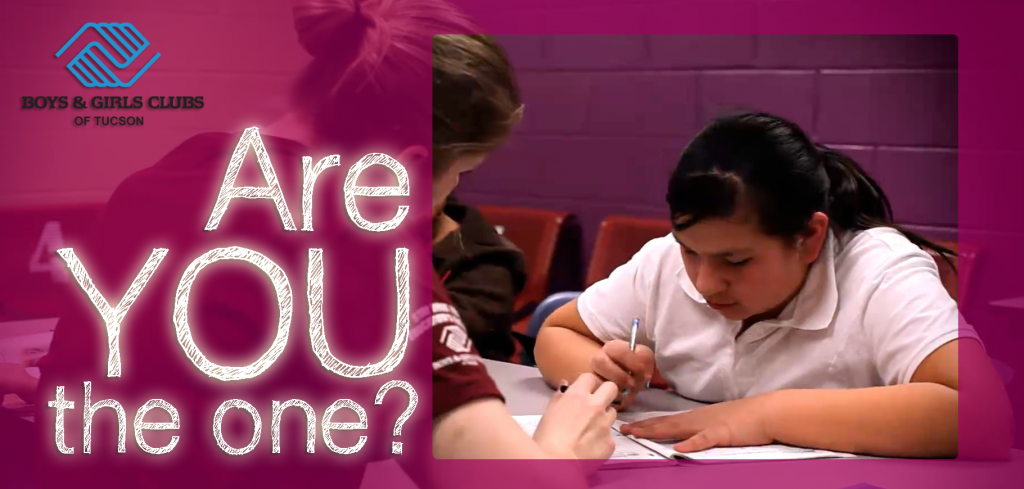 Spend your time making a difference in the
lives of youth in our community!
If you are sincerely interested in inspiring, motivating, and impacting young lives, then Boys & Girls Clubs is the place for you! Depending on the specific club location, we offer volunteer opportunities in the areas of tutoring, mentoring, coaching, special events, programming assistance, administrative support, and more.
---
Clubhouse Volunteer:
If over the age of 18, contact our Volunteer Coordinator, Rebecca Valenzuela, via email: rvalenzuela@bgctucson.org with details on your interests and talents. Rebecca will check your interests against our clubhouse needs and contact you regarding opportunities available. All who are under the age of 18, contact the director of the clubhouse where you intend to participate.
One Time Volunteer:
Only have enough time to give for one day? No problem, contact our Volunteer Coordinator, Rebecca Valenzuela, via email: rvalenzuela@bgctucson.org with specific details regarding your limited availability and Rebecca will contact you as soon as possible.
Special Event Volunteers:
The Boys & Girls Clubs has FOUR YEAR-ROUND events. Visit our Special Events page and see which one you would like to assist with. Contact our Special Events & Fund Manager, Ann Torrez, via email: atorrez@bgctucson.org with details on your interests and talents.
So, What happens next?
Individuals
Download & Submit a completed volunteer application to our Volunteer Coordinator – provide photo ID
Schedule an initial interview with our Volunteer Coordinator
Provide payment and pass a criminal background check investigation – $25.00 cost for search in the United States
Complete our mandatory volunteer orientation
Be the Difference in the Life of a Club Kid
You will be contacted once your completed application is received. Once approved, the final step in the process will be to have a final meeting with the clubhouse director. Generally our volunteers are approved in a matter of one to two weeks' time, depending on background check and reference follow up.
Take a look at available volunteer positions
click here
Download our volunteer application
Complete and Return to our Adminstration Office:
Mail Address: Boys & Girls Clubs of Tucson ATTN: HR, P.O. Box 40217, Tucson, AZ 85717.
Hand Delivery Address: Harold Ashton Resource Center, 3155 E. Grant Rd.
(northeast corner of Grant & Country Club on the Doolen Middle School campus).
Volunteer Orientation:
December's Orientation will take place on Friday, December 6th at 3pm. Orientations are held once a month on the 1st FRIDAY of the month at 3:00 p.m., at the Administrative Offices at the Harold Ashton Resource Center located at 3155 E. Grant Road. All volunteers must be approved before starting their volunteer schedule in the club. Candidates who have satisfactorily completed the application packet, reference follow up and background check will be scheduled to meet with the clubhouse director as the final step in the process. After which you will be assigned a supervisor and your job duties and volunteer schedule will be determined. All volunteers will be required to attend an orientation upon volunteer approval. Please contact Rebecca if you plan to attend.
THANK YOU to ALL of our dedicated Volunteers!