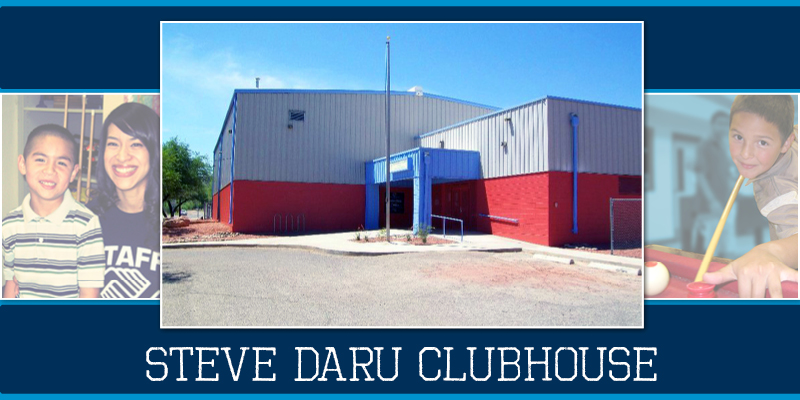 Clubhouse Location
Joaquin Murrieta Park
1375 North El Rio Drive
(520) 792-0331
Clubhouse Hours
School Year:
Mon, Tues, Thurs 3-8pm
Weds 2-7pm
Fri 3-9pm
CLOSED SATURDAY
Summer:
Mon-Fri 9am-4pm
Become a Member!
Download & fill out the PDF – Bring it in with $5 and you can start immediately.
Download a Membership Flyer
Want to know more? Click here to download a membership flyer!
Upcoming Events at Steve Daru Clubhouse:
Friday, December 14th at 6:00pm: Club Youth of the Year Competition
Clubhouse History
The Boys Clubs of Tucson began on November 27, 1956 when Mr. A. H. Fahringer of Boys Clubs of America met with a committee from the Lions Club to discuss organizing a Boys Club. Through the efforts of Mr. Charles Elkins and other interested members of the Lions Club, the Boys Club of Tucson became incorporated on August 21, 1957. Judge Norman E. Green became the first president of the organization. On May 21, 1958, Mr. Robert Daru donated the property that is now the site of the Steve Daru unit. The club opened its doors in June 1963 under the direction of Mr. Ray Keating and received its charter from Boys Clubs of America on November 30, 1964.
In 1988 the original Steve Daru Clubhouse was closed and a modular clubhouse was placed in Northwest Park to house club activities. In 1992 a new clubhouse was built to replace the modular building with funds donated by Frank X. Morton. The modular building was moved to Mission Park.
Clubhouse Staff
Yvonne Nelson
Club Director
Gretl Kresmer
Youth Development Specialist
---
Carlos Dehuelbes
Health & PE Director