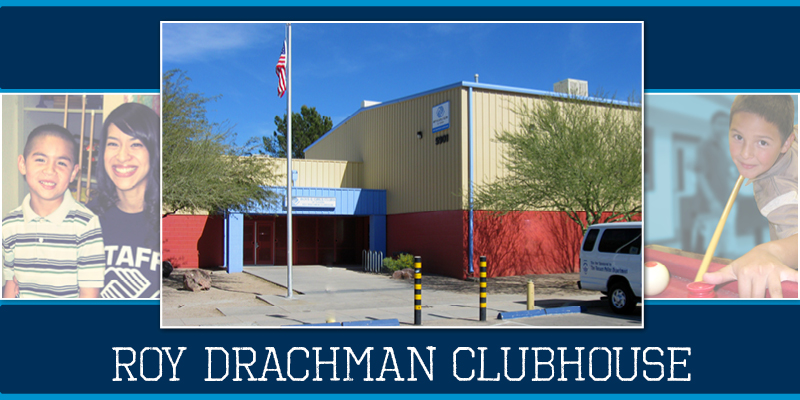 Clubhouse Location
Mission Park
5901 South Santa Clara
(520) 741-9947
Clubhouse Hours
School Year:
Mon-Fri 3pm – 7pm
Wed 1pm – 6pm
Summer Camp:
June 1 – 26
Mon-Fri
9am – 1pm (All Ages)
1pm – 3pm (Teens Only)
Join Us For Summer Camp!
June 1 – 26
Mon-Fri
9am – 1pm (All Ages)
1pm – 3pm (Teens Only)
Camp Flyer (Click Here)
Camp Application (Click Here)
Camp Application – Espanol (Click Here)
Camp Scholarship Application (Click Here)
Become a Member!
Download & fill out the PDF – Bring it in with $10 and you can start immediately.
SPANISH Membership Application Here!
Download a Membership Flyer
Want to know more? Click here to download a membership flyer!
Clubhouse History
The modular buildings from Steve Daru were placed in Mission Park, refurbished and opened on November 3, 1992 as a third site of the Boys & Girls Clubs of Tucson. The clubhouse was named for Roy Drachman who was an honorary chairman of the capital drive in 1986 and a major contributor to the Boys & Girls Club. Frank X. Morton provided the first year operating funds for this new clubhouse. Al Lothrop and the Tucson Conquistadores provided the funding to construct the Gymnasium in 1994. In 1995 the permanent Activity Center was built through strong support from the City, County and our donors. The new facility was opened for use in 1996.
Clubhouse Staff
David Jimenez

Club Director
Olivia Ruiz
Youth Program Director
---
Julia Tenen

Health & PE Director