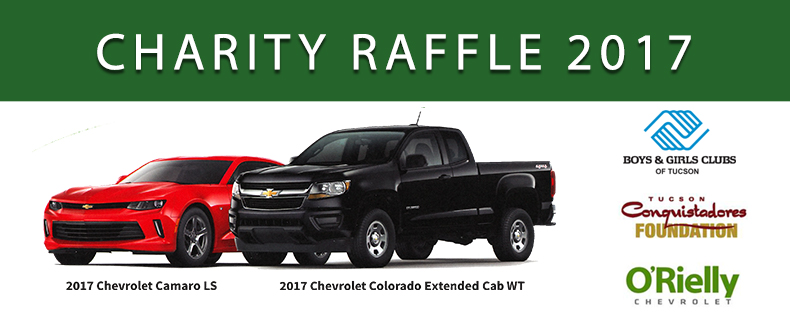 CONGRATULATIONS TO MIKE MCCRAREN with the Tucson Steelers of Tucson Youth Football and Spirit Federation!  He won the RAFFLE with Ticket #26681
The drawing was held on June 29th, 2017  at O'Rielly Chevrolet.
2017 Raffle Details
GRAND PRIZE:
Choice of 2017 Chevrolet Camaro LS or 2017 Chevrolet Colorado Extended Cab WT
The Tucson Conquistadores and O'Rielly Chevrolet have partnered to benefit members of the Boys & Girls Clubs of Tucson! Join the Club in supporting Tucson's youth by purchasing raffle tickets for just $10 each. Your support will enable over 4,000 Club members annually to participate in programs that promote Character & Leadership, Education & Career Development, Health & Life Skills, The Arts, and Sports, Fitness, and Recreation.
The sale of tickets has ended.  Thank you for supporting the Clubs and purchasing your chance to win.  The winner will be announced June 29, 2017 at O'Rielly Chevrolet. For exact details contact O'Rielly Chevrolet at 520.829.440.
Save
Save
Save
Save
Save
Save