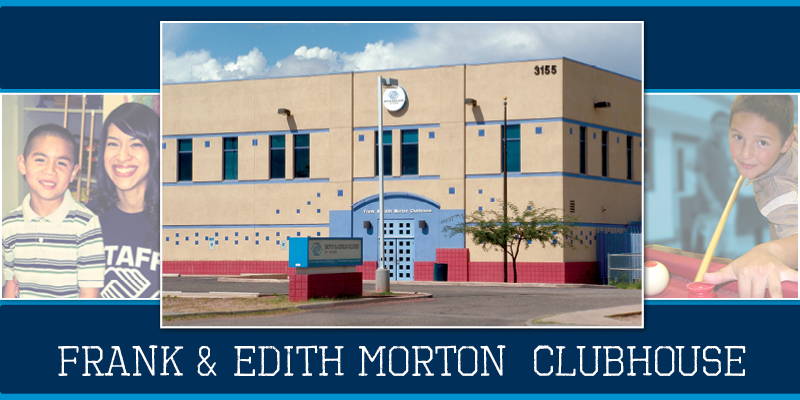 Clubhouse Location
Doolen Middle School
3155 East Grant Road
Phone: (520) 325-8400
Clubhouse Hours
School Year:
Mon-Fri 3pm – 8pm
Weds 2pm – 7pm
…………………
TEEN Night
Weds 7pm-9pm
CLOSED SATURDAY
Become a Member!
Any child between the ages of 7 – 17 may become a Club Member of the Boys & Girls Clubs of Tucson. An application form must be completed and signed by the parent or legal guardian and the Club Member. A membership fee of only $10 per school year and $20 for the summer is required. Financial assistance for the membership fee is available upon request.
Download a School Year Membership Application here:
School Year Membership Application – English
School Year Membership Application – Espanol
For More Information: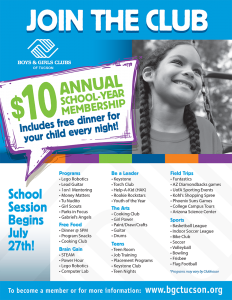 Clubhouse History
Frank X. Morton believed passionately in the "American Dream." He also believed in the Boys Club because it helped him live that dream. As a young boy, Frank was a member of the Boys Club of San Francisco and credited it with helping him head down the right track by providing a safe place off the streets of the tough Mission District. When he and his wife Edith moved to Tucson in the 1970's he once again became involved with the Boys & Girls Clubs because his grandson was a member. He saw what a wonderful opportunity the club gave not only his grandson, but other youngsters as well. Being a very direct, "down to earth" person, he chose to invest in Tucson's future and created an endowment for the operation of the Frank & Edith Morton Clubhouse. Frank Morton passed away in 1995.
The Clubhouse, which is located on the campus of Doolen Middle School, opened in November of 2003. It is a collaboration effort with Tucson Unified School District.
Clubhouse Staff

Daniel Miranda
Club Director
Michelle Kesler
Youth Program Director
---
Aaron Spoelman
Health & PE Director
Save
Save
Save