What Does It Take to be Youth of the Year…
Youth of the Year has become America's premier leadership and recognition program for teen Club Members. This nationally recognized program has a real impact on developing great futures for young people. Through an application and interview process, "Youth of the Year" candidates are selected by a local panel of esteemed judges based on leadership qualities, service to the community, academic achievement, letters of recommendation, obstacles overcome, written essays, poise and public speaking.
Some of the Benefits and Honors…
Our six Clubhouse Boy and Girl Youth of the Year Winners will be awarded scholarships to assist them in their academic pursuits. One candidate was selected by a panel of judges to represent the Boys & Girls Clubs of Tucson in the State of Arizona Competition in Phoenix in April. Our 2016 "Mark Irvin City of Tucson" Youth of the Year is Paola Bustamante.
---
2016 "Mark Irvin City of Tucson" Youth of the Year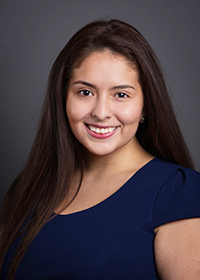 Paola Bustamante

Steve Daru Clubhouse
Congratulations Paola! Paola is the 2016 "Mark Irvin City of Tucson" Youth of the Year winner from the Steve Daru Clubhouse. Paola will be continuing to the State competition in Phoenix this April.
Paola is an 18 year old graduate from Tucson High School. She has been a member of the Steve Daru Clubhouse for the past 11 years. She shows unparalleled leadership both at the Club and across the community, and is a positive role model for all members. Paola lives with her father and siblings and hopes to be reunited with her mother who currently resides in Mexico. Paola is an ambitious and hardworking young woman and graduated High School earlier this year.  She currently holds a night job to help her father provide for the family and will begin college this spring with a focus on studying Political Science and working toward Law School.
---

Save
Save
Save
Save
Save
Save
Save