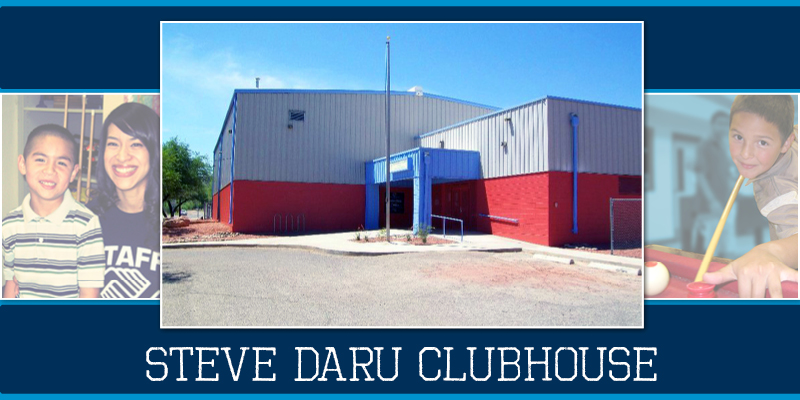 Clubhouse Location
Joaquin Murrieta Park
1375 North El Rio Drive
(520) 792-0331
Clubhouse Hours
School Year
Mon-Fri 2:30p-7pm
Weds 1:30-7pm
…………………
TEEN Night
Fri 7pm-9pm
Become a Member!
Any child between the ages of 7 – 17 may become a Club Member of the Boys & Girls Clubs of Tucson. An application form must be completed and signed by the parent or legal guardian and the Club Member. A membership fee of only $10 per school year and $20 for the summer is required. Financial assistance for the membership fee is available upon request.
Download a School Year Membership Application here:
School Year Membership Application – English
School Year Membership Application – Espanol
For More Information: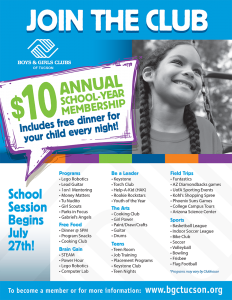 Clubhouse History
The Boys Clubs of Tucson began on November 27, 1956 when Mr. A. H. Fahringer of Boys Clubs of America met with a committee from the Lions Club to discuss organizing a Boys Club. Through the efforts of Mr. Charles Elkins and other interested members of the Lions Club, the Boys Club of Tucson became incorporated on August 21, 1957. Judge Norman E. Green became the first president of the organization. On May 21, 1958, Mr. Robert Daru donated the property that is now the site of the Steve Daru unit. The club opened its doors in June 1963 under the direction of Mr. Ray Keating and received its charter from Boys Clubs of America on November 30, 1964.
In 1988 the original Steve Daru Clubhouse was closed and a modular clubhouse was placed in Northwest Park to house club activities. In 1992 a new clubhouse was built to replace the modular building with funds donated by Frank X. Morton. The modular building was moved to Mission Park.
Clubhouse Staff

Anayeli Hernandez

Club Director
Olivia Avanzato

Youth Program Director
---
Marsharne Flannigan

Health & PE Director
Save